Our Pastoral Staff:
Our leadership team recognizes the authority of God, and realizes that we are shepherds who serve under the Chief Shepherd, Jesus Christ. We desire to devote ourselves to prayer and to the ministry of the Word. Our passion and goal is to equip the believers for the work of the ministry until we all attain maturity in the fullness of Christ.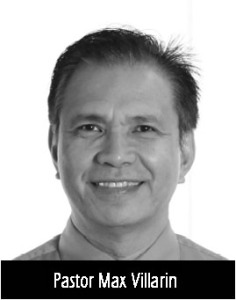 Pastor Max, Senior Pastor
My spiritual journey goes back to childhood. Through my Catholic parents, I had an early experience with religious activity, community, prayer and sacraments which gave me a sense of the divine. I became an altar boy on my 6th grade and immediately found an interest in pursuing priesthood.
Going through a period of ambivalence in my adolescent years and all the way through college, I experimented with worldly pleasures that led me to stray away from the Lord and all that I have learned. In the succeeding years, work business and self-indulgence became my personal pursuit.
As a businessman, I was on a routine visit to a financial institute in Cebu, Philippines. During my business dealing with the bank manager and close friend, he witnessed to me his new found relationship with Jesus. He invited me to join a weekly prayer meeting he attended, known as the "Full Gospel Businessmen Fellowship International". For months I declined his invitation, but after 6 months of continuous persistence, I conceded for fear of losing financial favors from him.
During my first prayer meeting, I experienced a sense of peace and supernatural presence that overwhelmed me. A feeling that led me to personally dedicate my life to Jesus and receive the gift of salvation. At the time, my reasons for going was due to personal gain but God had better plans… He gave me unfading and everlasting "riches" in Christ. From then on, I was drawn into an exciting personal relationship with Him.
By God's grace, I found joy in serving the Lord in various capacities. I later got involved in the Choir Ministry, leading worship and conducting bible studies. I became a board member and continued teaching His word through bible classes and Sunday worship.
One Saturday night, in Nov 1993 was a defining moment in my walk with Christ. I had a vivid dream where God revealed to me an unmistakable calling to the pastoral ministry. Through prayer and confirmation, in 1995 and eleven years after I gave my heart to Jesus Christ, I was given the privilege to pastor The Living Bread Ministries.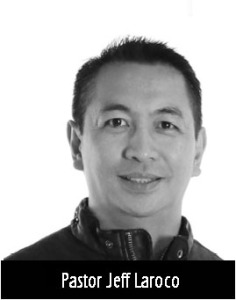 Pastor Jeff, Assistant Pastor
I was introduced to religion at an early age, but my personal relationship with the Lord did not start until age 13 when a cousin shared to me the saving grace of Jesus Christ on December 25, 1983. Since then I began attending 2 faiths that unknowingly would stage my reformatory years in Ministry. After high school, I entered the Seminary upon the encouragement of my Parish Priest but quickly left after 2 years. I opted to take secular education while the Seminary was kind enough to let me stay with them for the next 4 years in case I changed my mind. The next 4 years was an opportunity for me to seek my faith as I actively involved myself with different Christian organizations and missions. After graduation, I brushed aside the idea of ministerial calling and worked instead with the airline industry for the next 14 years of my life until I met my wife Gen.
My call to ministry came unexpectedly in 2003. God woke me up one morning and spoke to me clearly about preparing a life of service to Him. With the permission of my supportive wife, I gave up my work and enrolled at Trinity Theological Seminary of Indiana, who had an extension office in the Philippines. I became a full-time ministerial student for 2 years and by God's grace, I graduated in 2004. In 2005, I helped establish the Living Bread Ministries in Baguio City, Philippines. After a year of service in Baguio, God called us back again to the Living Bread Ministries in Carson in 2006 to continue serving Him while furthering my studies with the Wesleyan Church.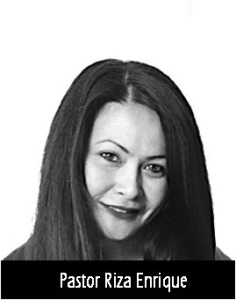 Pastor Riza, Youth & Young Adults Pastor
In December 2000, the Living Bread Ministries held a concert called "Voices of the Heart". I was asked by the church to help in directing the concert, because of previous production experience. Upon accepting the challenge, I simply looked at the opportunity to direct strictly from a professional perspective.
During rehearsals, I often heard church members proclaim, "If we can save just one soul… this will be a successful concert." I thought of it as an interesting goal, but it did not mean much to me. Since at the time, I did not have a personal relationship with Jesus.
On the weekend of the concert, the songs "Eagles Wings" and "Potter's Hands" were sung. I found myself overwhelmed with emotions and surprisingly moved by the words of the song. At the time I could not understand what came over me but looking back now, I know it was God moving in my heart. I went home that evening and found myself on my knees crying and praying to God. I asked Him to forgive me, to change me, and take over my life. I didn't know it then, but I had actually prayed the sinner's prayer with the leading the Holy Spirit. That weekend was the beginning of my life. I look back to that weekend with such profound tenderness, knowing in my heart that God loved me so much that He orchestrated the whole concert just for me! I remembered the words "If we can save just one soul… this will be a successful concert". It was a success! I was one of the souls saved that evening.